I started my new role at the Internet Archive earlier this week, joining the Web Group, an awesome team of passionate and talented new colleagues.
I knew many things about the Internet Archive. This is where the idea of archiving the global web was born and the world's largest web archive resides. I have visited the Archive before and worked with various people on collaborative projects over the years…
In week one I discovered three things I did not know about the Internet Archive:
1. I was told about the Internet Archive's scanning centre in London at the Wellcome Library, where I now have a desk and the privilege of working inside this absolute architectural highlight.  What I did not quite realise was the ambition and scale of what was going on in the darkness of blackout blinds. Ten UK libraries' historical books on medial history are being digitised here, at the rate of 800 pages per hour and with the goal to digitise 16-17 million pages by 2016. Saving Human Knowledge at 800 Pages an Hour has the details including some stunning photographs.
2. The Internet Archive Companion, an iPhone and iPad app for accessing Internet Archive's collections. This is not produced by or officially associated with the Internet Archive and the web archive, or the Wayback Machine, does not seem to be included but it really does not matter. The app brought close to me so many other things: text, video, audio, image, concert… While making dinner last night, I thoroughly enjoyed watching Jane Eyre, the 2011 film directed by Cary Fukunaga, starring Mia Wasikowska and Michael Fassbender.
When will I be able to use other libraries' collections like this?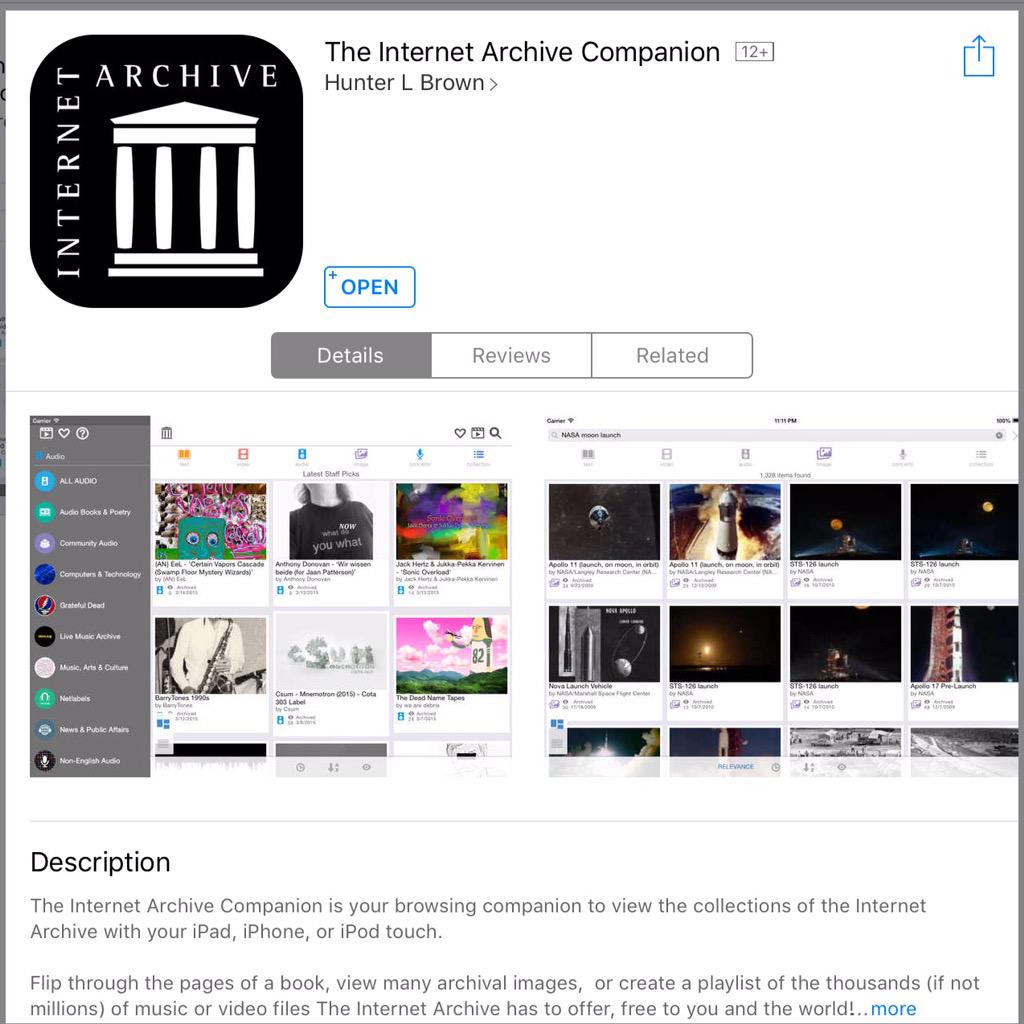 3. Internet Archive has also made a range of web crawl data available for research. This can be  downloaded from https://archive.org/details/web&tab=collection. I was slightly surprised but very pleased to see domain crawls of some national libraries among the list – many national web archives are not publicly accessible due to legal requirements – This is great news for researchers.
I look forward to discovering more, which should not be hard as I am setting off on Monday for a 5-week orientation at Internet Archive' headquarter in San Francisco.